Born August 5, 2010
| | | |
| --- | --- | --- |
| | X | |
8 weeks old
Now we are five... weeks that is! We are sharing the indoor/outdoor kennel with the Smoke-x-Sweetie litter, so be sure to check there for more pics. Our Mom's spend the days with the big dogs, and sleep with us at night. We spend the day alternately sleeping and playing hard, running in and out the doggie door, chasing leaves, wrestling, chewing bones, finding treats hidden around the yard, etc. We are starting to learn to potty outside!
All candids this week - scroll down to week 4 for links to individual puppy pages.
Week 5 Candids!

Thank you to Sam Roach for the following 5-week candids!
Now four+ weeks old. They romp and play with each other. They are just getting interested in going out the doggie door to the big outdoors. They are eating Mom's kibble and drinking water from a bowl, as well as nursing.
Click on each puppy picture for more pics!
Scroll down for some candids!
| | |
| --- | --- |
| Blaze - Black Tri Male - | Gunner - Blue Merle Male - |
| Boomer - Red Merle Male - | Richie - Red Merle Male - |
| Rambo - Black Tri Male - | Carmelita - Red Merle Female - |
| Ruby - Red Merle Female - | Bruiser - Red Merle Male |
Week 4 Candids!

What puppies like to do - LOL!

This is Blaze and Gunner.

Eating is popular... especially with Bruiser!

Blaze, Gunner, Richie, and Bruiser

Wrestling with Mom is also entertaining!
This is Carmelita trying to get a good grip on Mom's neck - ha :-)

Blaze is getting sleepy.

Ruby think the hay is very interesting...

Carmelita thinks she'll take this opportunity to pounce on Ruby...

Bruiser with a favorite ball, Richie would rather drink from the water bowl -
Six males, two females (both red merles), one blue merle, two black tris, five red merles.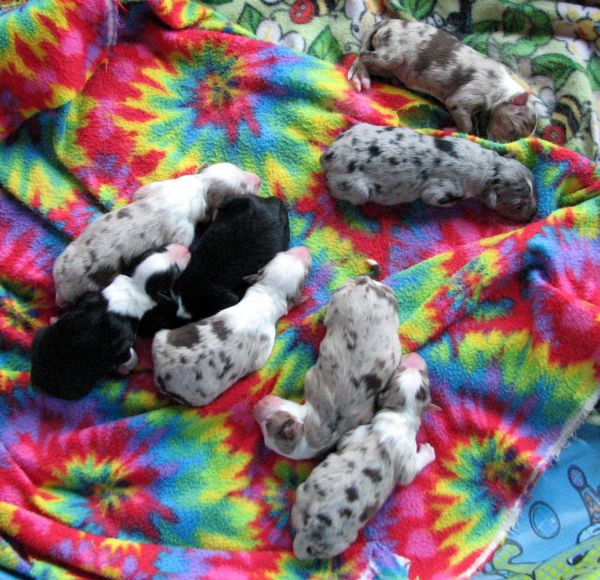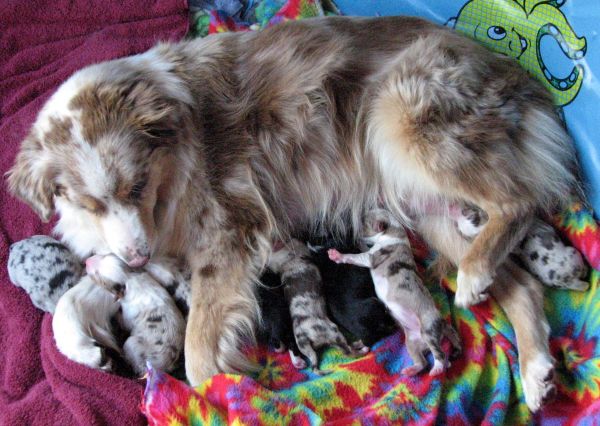 Maternity Ward - LOL