KissMe Kennels Miniature Australian Shepherds
Lady is a beautiful blue merle with blue eyes, full white collar and copper trim. She is a very loving, quiet girl. She came to us from Chas Lasater of Valhalla Kennels, one of the founding breeders of Miniature Australian Shepherds. She was born in April 2003, and is registered with the National Stock Dog Registry (NSDR) and AKC. Lady is 15.5 inches tall and weighs about 28 lb.

Lady turned out to be mostly deaf and was struggling to get along with my other dogs. As happens often in nature, she was sometimes picked on by the others because of her disability. After a couple of years I decided to find Lady a special home where she would not have to compete for attention. As sad as I was to see her go, the following pictures bring me great joy!

Here is Lady now, in her new loving home, with her new buddy Aiden (grandson of Carl & Pat)...
Lady, as the most adorable baby...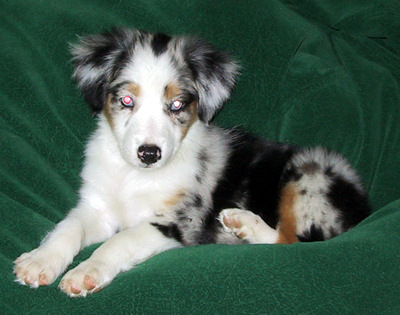 Copyright © 2003-2006 KissMeKennels.com